Administrator
Staff member
Dealer
Manufacturer
** Please do NOT subscribe to notifications from this topic or you will receive an email alert every time someone submits a guess! **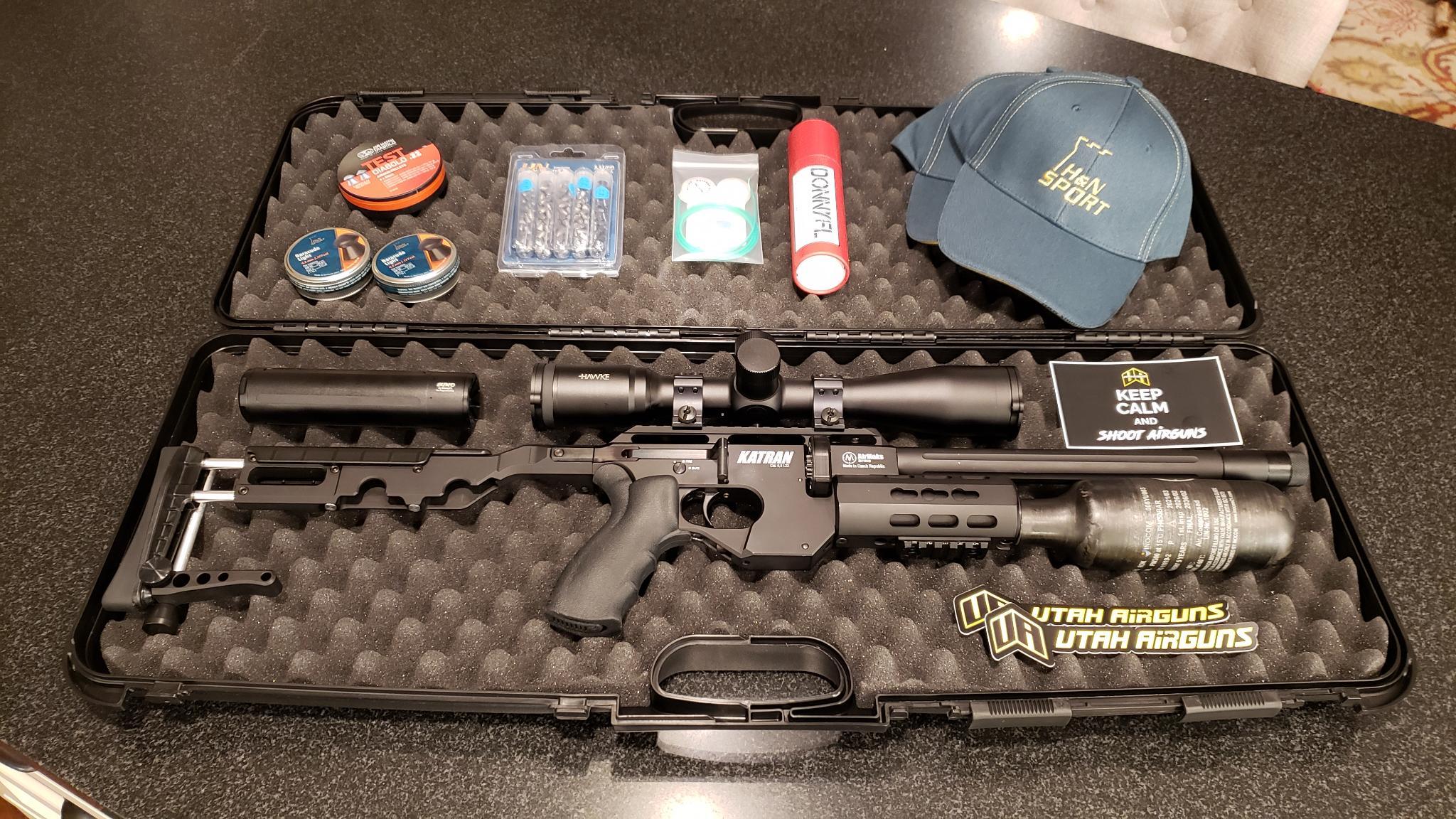 Coming in HOT from the Czech Republic is a brand new offering from AirMaks Arms, a newer aigun company with "internal influence" from great organizations like Airgun Technologies and Ataman.
Their ULTRA competitively priced Katran comes standard with a rigid magnetic aluminum folding stock, an adjustable comb, an adjustable length of pull, an adjustable buttpad, 2 integrated magazine holders, 20 MOA built into the picatinny rail, a Keymod forend, a buttery smooth reversible side lever, a reversible AR style manual safety, a crisp adjustable match trigger, ½ UNF moderator threads on a fluted shroud, a custom hard case, an external hammer spring adjuster, and a CZ barrel!
Whoaa!!!
All models are 300 bar fill and regulated, and come in a dizzying combination of barrel lengths, and bottle sizes & types too!
Check out our Share n' Compare
!
On behalf of Airgun Nation, thank you Utah Airguns for donating the AirMaks Katran Compact CB in .22 caliber, and thank you Sponsors for adding a whole bunch of goodies from Hawke Optics, Sportsmatch Rings U.K., Donny FL, JSB, H&N Sport, and Patchworm Bore Cleaners.
We appreciate you!!!
2 EASY STEPS TO WINNING
Join Airgun Nation 
Enter to Win
[/LIST=1]



Winners Package


AirMaks Katran CB (Compact Bottle) $1349.99
AirMaks Monopod & Bag Rider $49.99
Hawke Airmax 30 WASF 10x44 Scope $479.00
Sportsmatch Rings UK #HT067C 30mm Scope Rings $85.58
DonnyFL Moderator (choice of model) $185.00
Patchworm Pocket Field Kit Universal Firearms Cleaner $11.50
H&N Ballcap x2 $30.00 
H&N .177 Barracuda Light (2 tins) $31.98
H&N .22 Slug HP Sampler Pack $26.99
JSB .22 Sampler Pack $15.99




A single winner will be selected with a random number generator. For a chance to win, all you've got to do is pick a number between $0.00 – $2266.02 (the giveaway's value) and enter it in the body of THIS THREAD.



The contest begins now and ends December 20th @ 10pm CDT. I'll announce the winner the following afternoon.



Good luck everyone!!!



ATTENTION PARTICIPANTS:

This is a private giveaway & is open to participants within the United States only (void where prohibited). In order to participate in these events we ask that you be a member of Airgun Nation and be subscribed to AEAC. The closest guess to the randomly generated number wins. Duplicate entries of the same number will be determined by timestamp. Multiple entries by the same contestant will result in disqualification. Claimants must be 18 years of age or older and not in any way be affiliated with AirMaks Arms, Utah Airguns, Hawke Optics, Sportsmatch Rings UK, DonnyFL, 20/20 Concepts, JSB, or H&N Sport. If you are below the age of 18 and win, you may have an adult, parent, or adult legal guardian claim the prize on your behalf. Prizes must be claimed within 10 days of the event's end. Winners in the USA will be responsible for all state/federal taxes and must provide a completed W9.



** Please do NOT subscribe to notifications from this topic or you will receive an email alert every time someone submits a guess! **