Carette is set to release it's new 3 stage Air Cooled PCP compressor. The test unit is 220v , Bosun has informed me that the 110VAC motor will be available in 90 to 120 days. This first of 4 parts will cover unboxing / specification and components, Pt2. will be breakin run and tank topoffs. Pt.3 will cover complete fills of 74Cuft and 120Cuft CF tanks with time, temps, water development, air quality. in the stats. Pt.4 will be results of internal inspection of components for after 20hrs of run time.
Quick Specs: 4500PSI 3 stage Air Cooled 1.5cfm (45L), 220VAC 8.1 amp 60Hz Motor 1450rpm, Splash lubrication, Steel rings. Single stage filterless Oil/Water piton tube style seperator w manual drain, 2 Stage molecular sieve filter housed in stainless internal canister. Intermediate coolers. Electro/pneumatic pressure cutoff switch (internal adjustment), a seperate master switch. Fill Line incorporates a 2 inch HP gauge and DIN 300 connector and line drain valve (A DIN 200 connector is also available.). Frame is steel is construction, Weight 83lbs, Dimensions L21" x W19" x H18"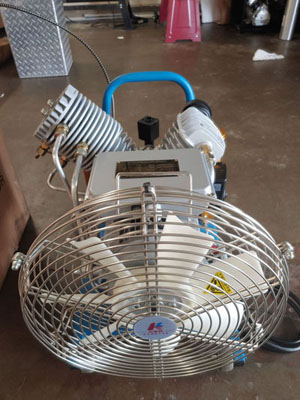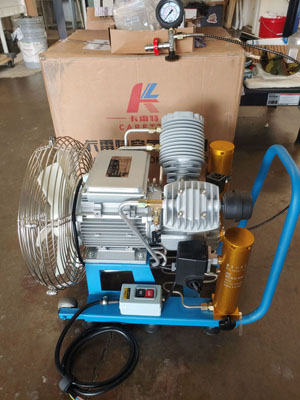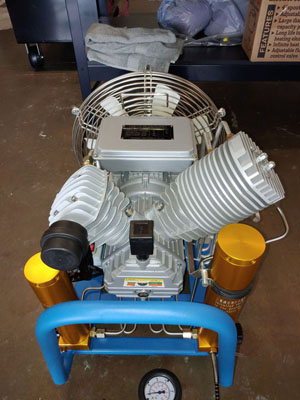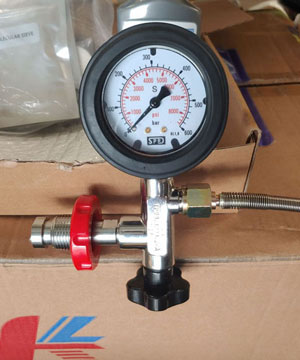 Unit was shipped in a large CB box with a small wood internal frame for support. Box included a seperate accesories kit that included spare molecular sieve beads and filter pads, Crankcase Oil breather, small bottle of Oil (Oil provided was not enough to fill the crankcase after speaking with factory they approved Secolube 500 oil for initial testing). 
The frame is well constructed the welds are clean and it is well suited for the unit. The handle is easy to reach and follows back to the rear were 2 rubber wheels allow the unit to be lifted and rolled around quite easily. 8 rubber pads cushion the frame from the floor and keep vibration to a minumum. The riser mount is part of the frame and provides a very sturdy platform for the compressor, mounting bolts are good sized and lock the unit down well. 
Electric is provided via a master power switch, this feeds the power to the electric /pnuematic pressure switch controlling shutoff. (Type you find on a standard compressor) There is no external adjustment you must remove the cover and rotate the set screw inside. Meaning adjust turn up or down, replace cover, run, see where compressor stops, remove cover then readjust if required replace cover test again. This motor is 220VAC drawing 8 amps at 1450rpm, it has both start and run capacitors. Reset thermal overload protection is in the system. Shutoff air pressure is measured at the oil/water seperator tower. Cooling is provided in large part for the motor and compressor by a 12 inch 7 blade fan housed in a wire welded cage, powered by the rear motor shaft.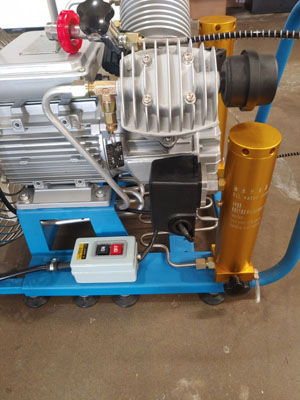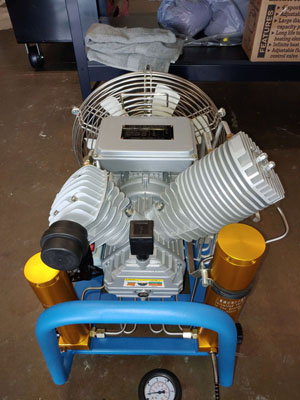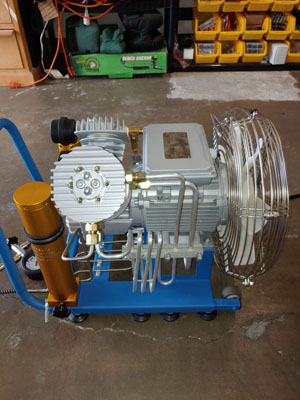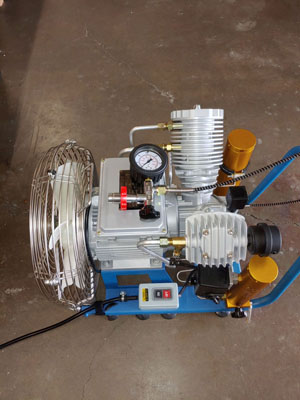 Compressor crankcase is the typical aluminum trapzoid design you see on many 2 cylinder units, however the second cylinder head houses both 2nd and 3rd stage pistons in a side by side configuration. The cylinder walls are thicker than most compressors, the cylinder heads are heavy duty especially cylinder 2. The cooling fins are deep and thick to aid cooling. Crankcase has typical oil site glass, drain plug and air breather. Each stage is connected via stainless steel heavy duty airlines that are routed to capture airflow from the 12 inch 7 blade cooling fan to help cool the compressed air. Cylinders utilze hardened steel liners and steel piston rings. Precision machined intake and exhaust valves.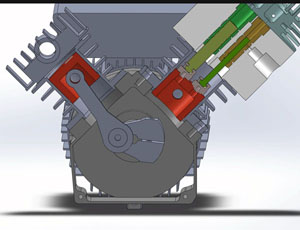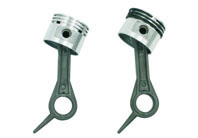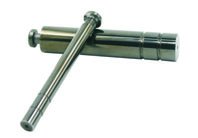 Airflow starts at paper intake filter housed in sturdy plastic and screws in to the cylinder head , after the first stage air is sent to stage 2 via SS airline coil under the frame and in the path of airflow from the cooling fan. From the second stage thru SS airline coil on the side of the compressor frame in the path of airflow from the cooling fan. 3rd stage passes thru SS line to the oil water seperator. Each SS line becomes progressivley smaller after each stage of compression. Tower type oil/water seperator but with no filter. A piton tube setup is utilized. (Air enters bottom of cylinder and exits thru piton tube opening near top of of seprator tube. leaving water and contaminants behind). This housing is were the pressure switch mounts and detects air pressure. A 5100psi burst disk is also located in the wall of the Oil/Water seperator. A manual water drain is provided for purging. Air is then passed to a 2 stage molecular filter, 2 passes are made within the stainless cartridge insert , filter disk seperate the chambers. A manual drain is provided to release air pressure from the fill line in this canister. The tank fill line connects to the sieve canister and has a 2.5 inch HP gauge a DIN 300 connector and another manual drain.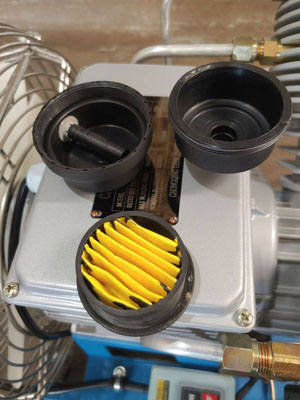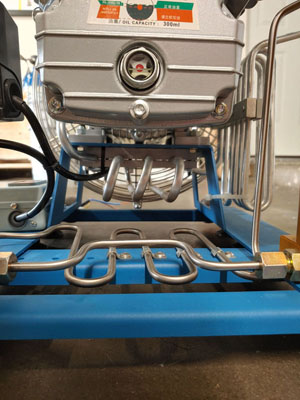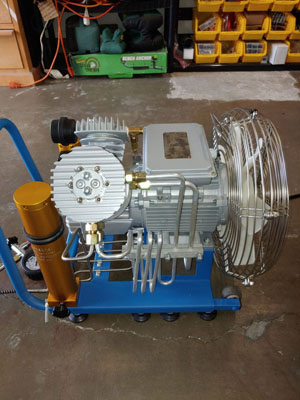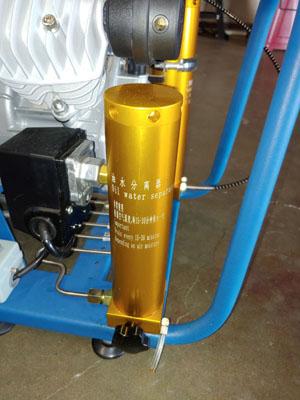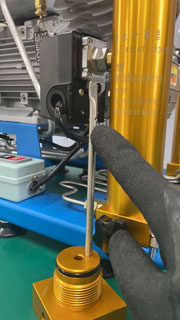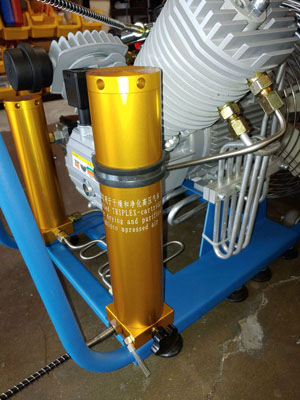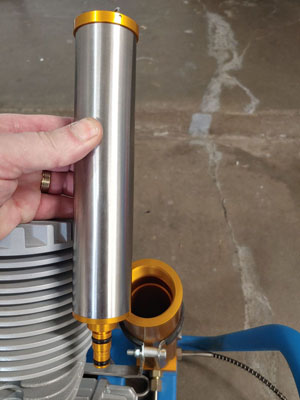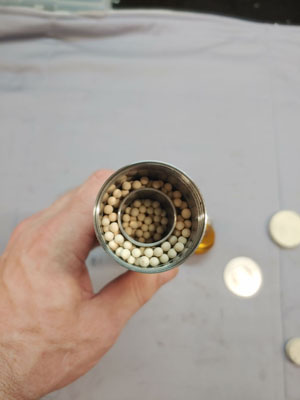 This Carette is very stout from the frame to the cylinders upon first look. Not a big fan of the pressure switch setup but will see how it does for runtime tests. The filter setup should provide good removal of moisture for final output, but still undecided on Piton tube setup for Oil water seperator. Overall the unit looks to be built to handle the stress developed during run time, the cooling tubes should provide a decent amount of temp control for the air between cylinders to help prevent overheating.
Will be posting part 2 and part 3 over next couple of days.