This little gun is a riot. Fun as heck to walk a soda can from 6 to 12 yds as fast as you can pull the trigger!
For those of you that aren't familiar, I won this on Christmas eve drawing via Shooter1721's facebook page. It was donated by Airgun Depot for the drawing and I was the lucky name pulled from the hat.
It came with two 90 gram Co2 cartridges and I used the tin of JSB 8.4 gr pellets that came with the gun to check my velocity with the Co2.
I was averaging close to 400 fps with Co2, but the velocity dropped with the high pressure air for some reason? I only avg about 350 fps now, but heck I can live with that since I don't have to buy Co2 cartridges anymore.
Also I don't use the rubber but plate that came with the HPA conversion kit. I can steady the gun with the bare bottle resting high on my shoulder and my cheek locking it into my shoulder.
Knowing what I know now, I wish I had ordered an extra magazine when I ordered the HPA conversion. You see, there's only one belt that comes with the magazine and the gun, but if you buy an extra magazine you get 3 belts with it. I'll be sure and order another mag on my next order!
Also there's a little tool, or you can just use the end of an allen wrench. But the pellets need to be seated into the belt really good and you shouldn't have any misfires that way.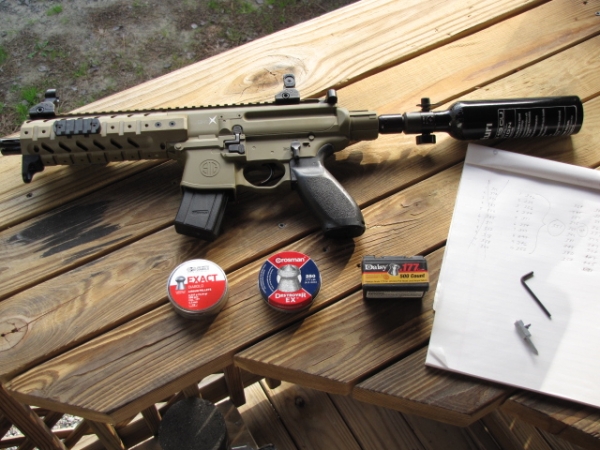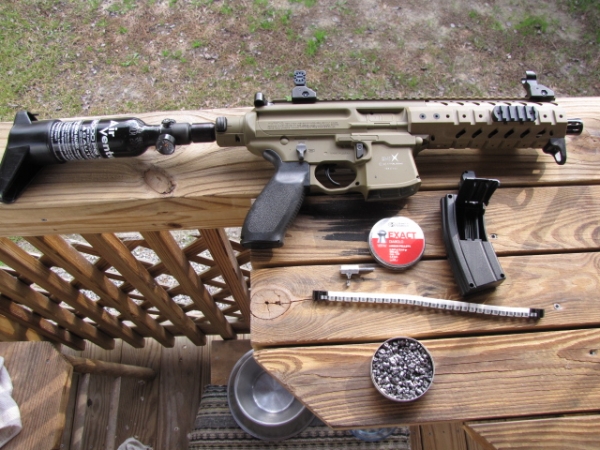 Pellets on left side of belt seated.
Pellets on right just pushed in with thumb.