Derrick made me an offer I couldn't refuse, so I acquired one of his custom master pieces. I'll link to it's beginnings here.
https://www.airgunnation.com/topic/cricket-mashup-%f0%9f%98%81/page/2/
She's changed a little since that post. He has since installed the power plenum.The Sumo would no longer fit with the extended air tube, so he went with the smaller diameter Koi for a great fit. And she's shooting the 33.95 gr MK2's around 905-910 fps. Nice and quiet, only hear the ping of the hammer in your ear.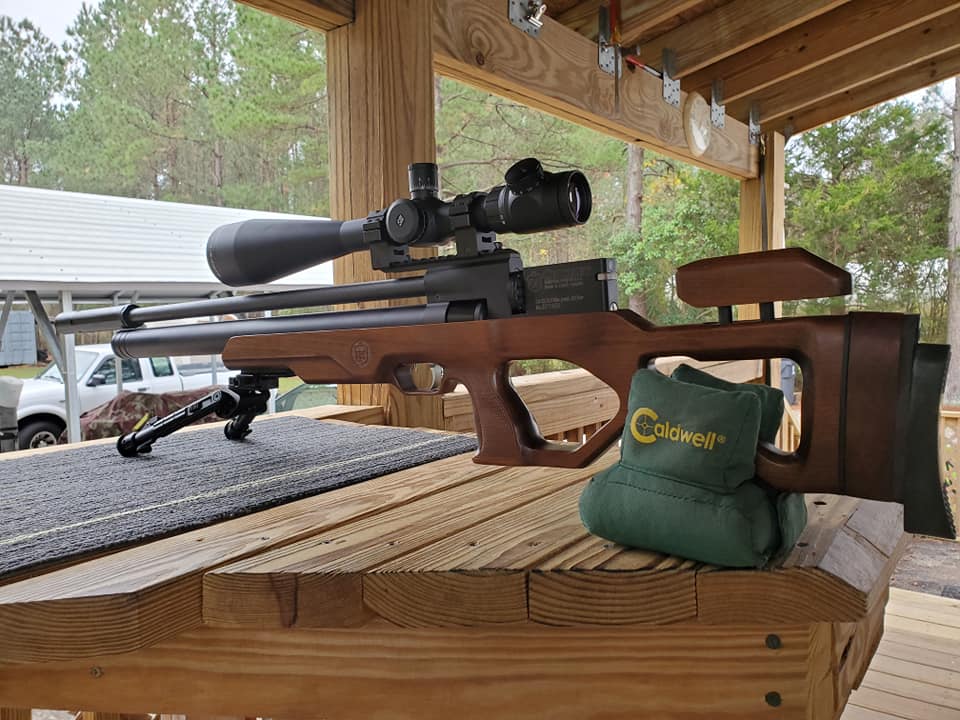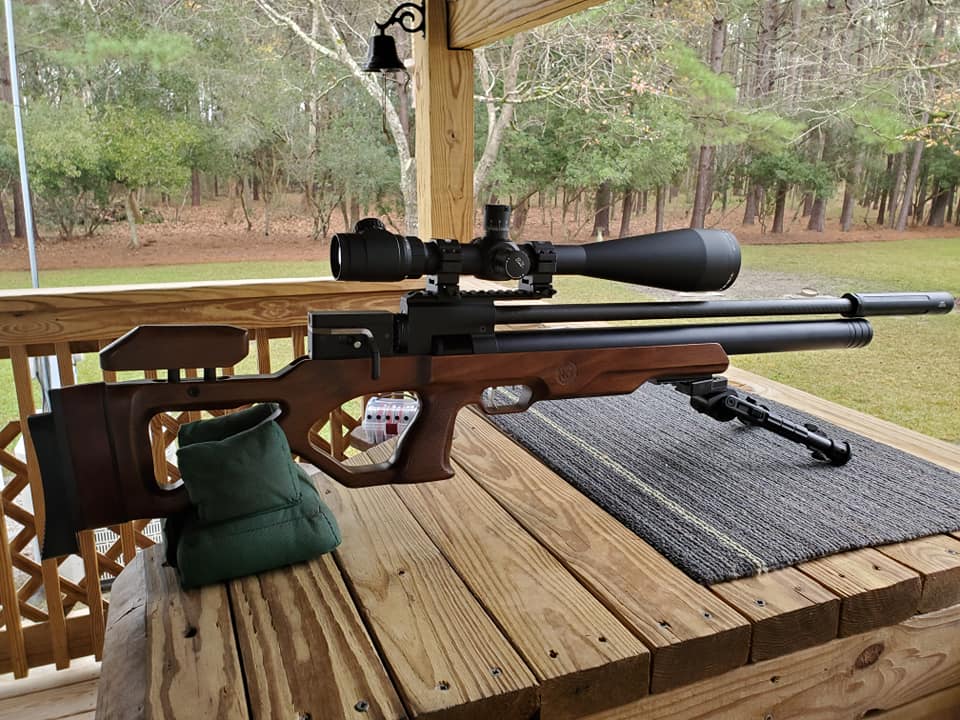 These are my very first shots with it. I zeroed at 28 yds to start with and then took it to 40 yds and then 100 yds.
Derrick sent two mags with the MK2's already loaded in them. They were extremely tight in the mag and shot a bit tighter than my Edgun MK2's. So I shot a group at 28 yds with the pellets he delivered and a group with mine to show how much better tighter his grouped. Also decided to try some FX Hybrids and some Nielson 34 gr Dimple nose. I must say the slugs shocked me? This is the first gun I've had to shoot slugs half way decent! The 33.95 Edgun pellets running around 905 fps, but the 34 gr Nielson only 844 fps. The 26 grain FX Hybrids around 950 fps and the 25.39 JSB's flew at 1013 fps. Forgot to get a group with them, but they did ok at 40 yds.
Here's my very first groups at just 28 yds after putting the scope on and zeroing.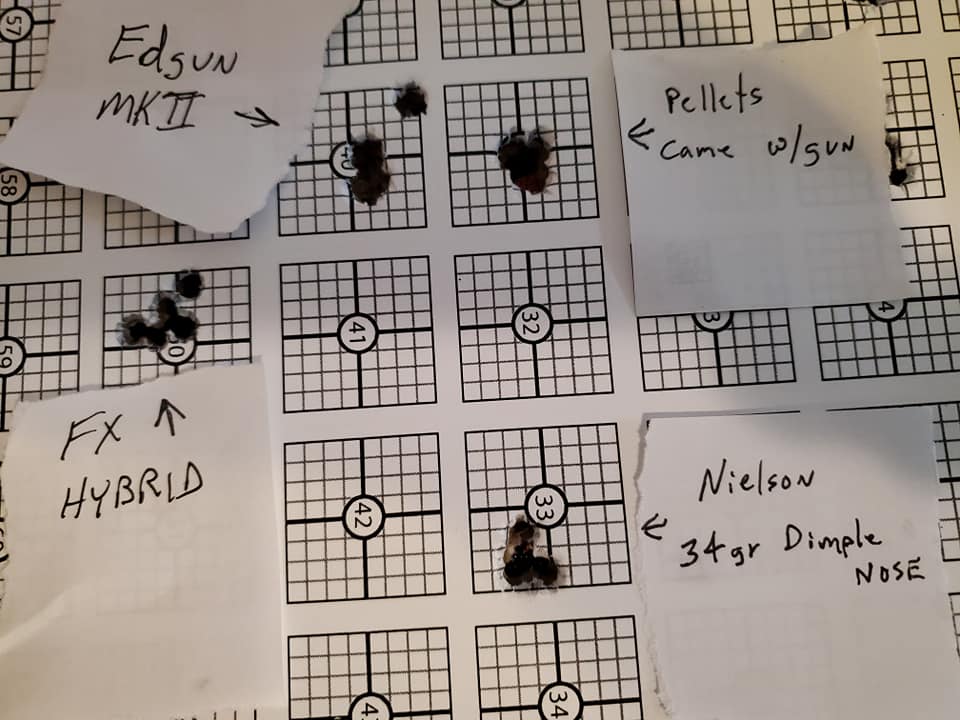 Then decided to take her out to 40 yds and try the Hybrids and Nielsons. I was beside myself as they both shot group size almost indentical, other than the Hybrids drifted right and the Nielson's drifted left? I'm a very happy camper with that as I've never owned a gun that didn't look like a scatter gun with them? Maybe this will motivate me to get into slugs?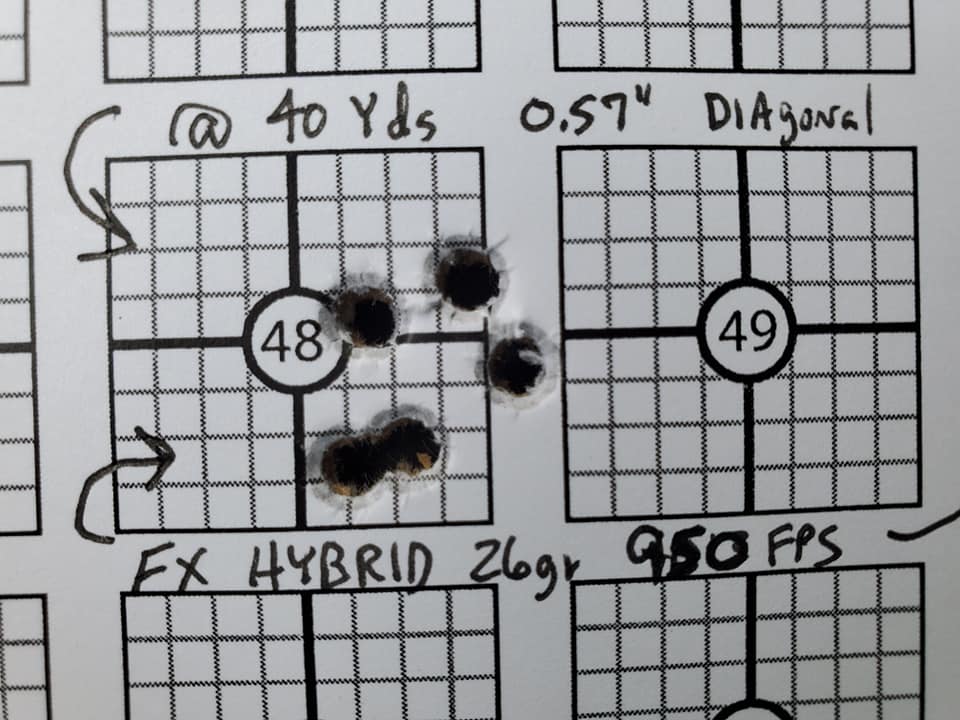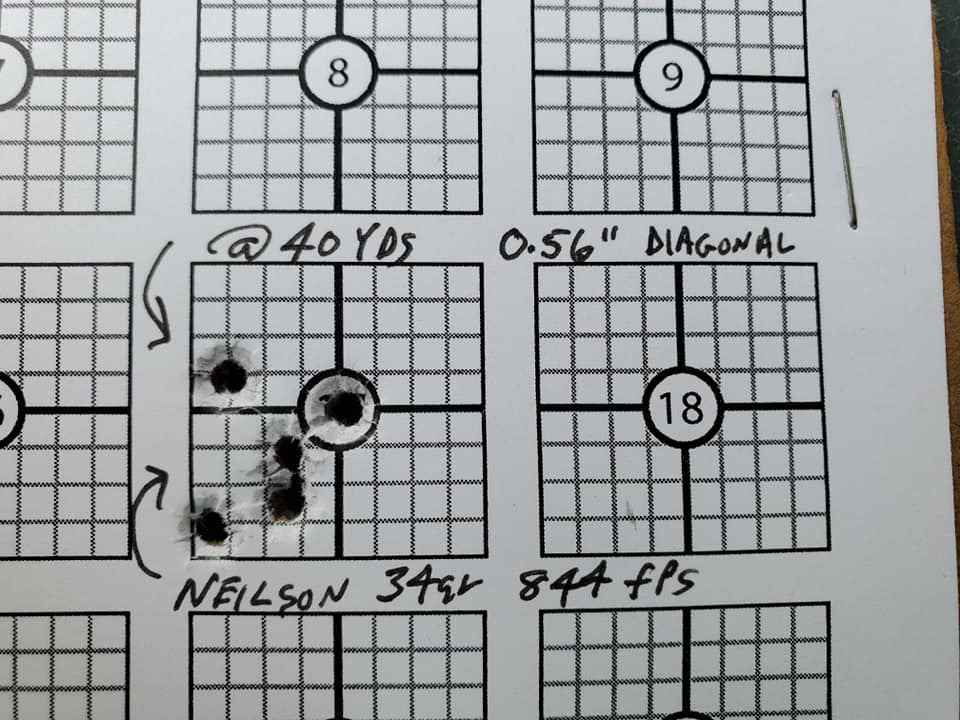 I had some old targets still sitting in the bullet trap at 100 yds. They were shot up pretty good but I wanted to see if I could get on paper with the slugs. So I maxed out the vertical on the scope elevation and went to it. The Hybrids outdid the Nielson's this go around. Got a 1.45" group with the Nielson's and a sweet 1.25" group with the Hybrids. I need to put out some new targets and try this again. I'm stoked! I had some shots before the group where I was trying to get on paper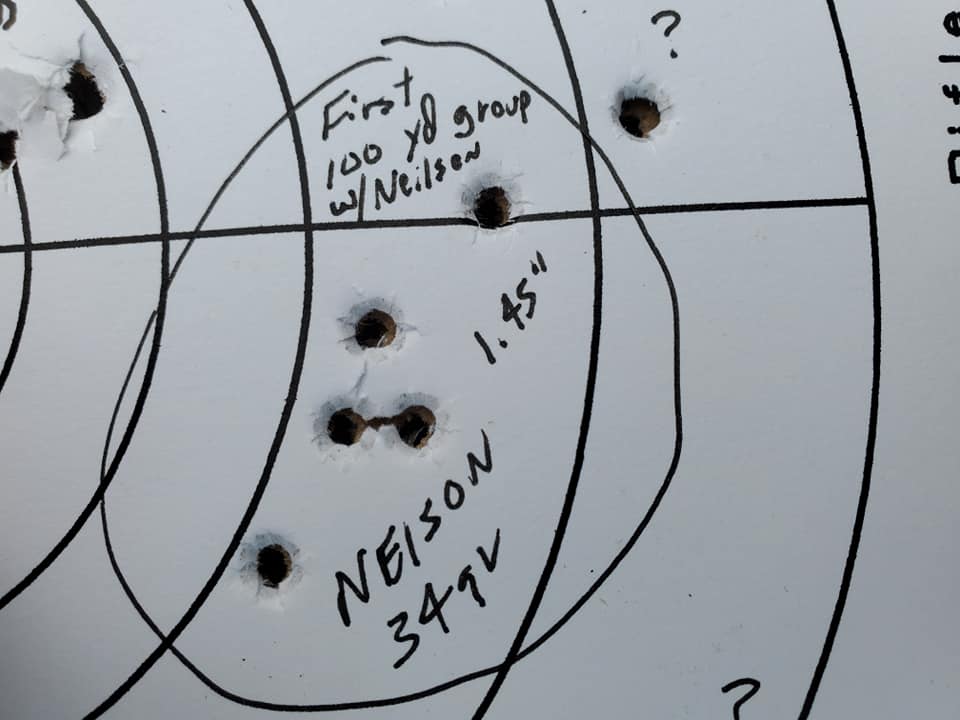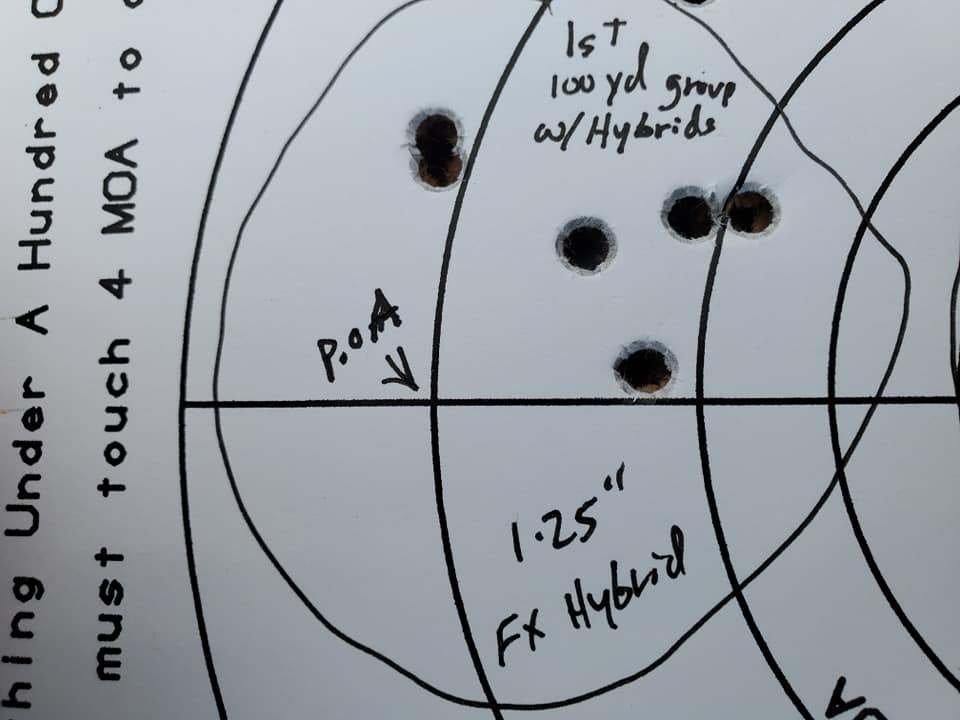 This is the very first 100 yard group I shot with this rifle with my Edgun MK2's. Already broke the one inch barrier with it! Wowzer. Thank you Derrick! And four of the five shots were 1/2" ctc.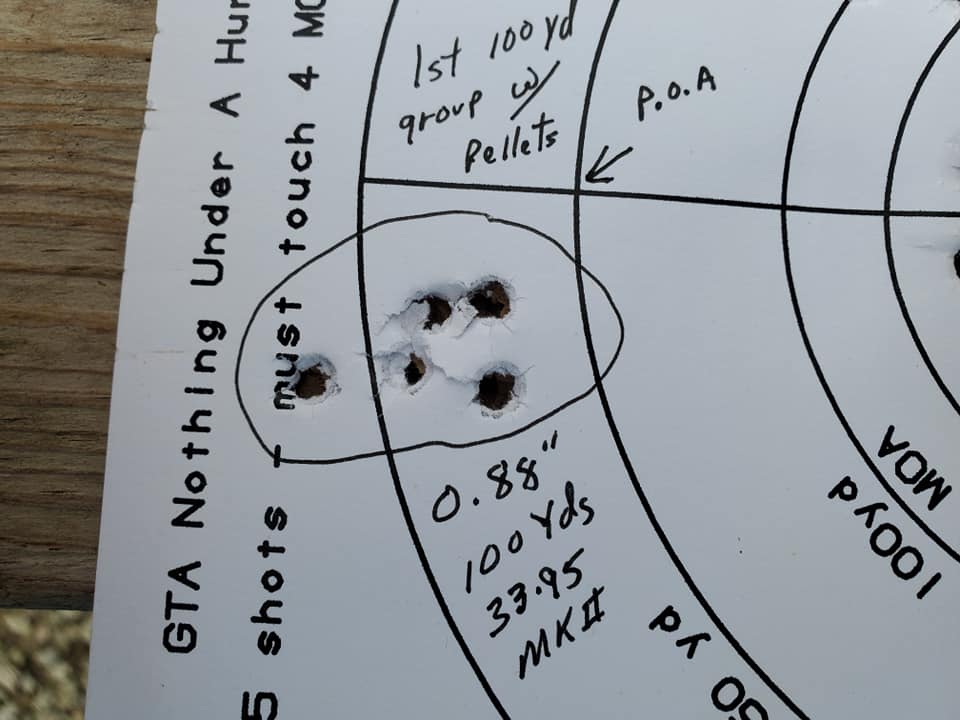 I'm not crazy about the butt stock as it's hard to hold steady in the rear bag. Need to figure out a better rear bag set up. Also was using a bipod that I'm not comfy with also. Gotta get a better bipod and might even get some FX No Limits rings so I don't have to max out scope elevation at the 100 mark. The limits to this gun today were me and the bipod/bag set up. I see some good groups in the future with this baby.