When I got my first PCP, I set the springers aside for a while, except for the 300S of course. But now I am on a mission to master springer accuracy and thought it might be useful to pass on my current thinking as to best practice (pun intended), as well as to solicit tips from the resident springer experts.
For positions, I shoot mostly sitting or offhand, with some bench shooting to try different pellets, or just to relax. By and large I shoot airguns using the same techniques I would use for rimfire. I use light holds for both, and try to find a technique that lets the rifle recoil straight back, not flip off the target under recoil. The main difference is that I typically rest a springer just forward of the balance point, where I may rest a rimfire further out on the forend. The special challenge that springers present is that the shot time is very long, and to make matters worse recoil from piston motions starts well before the pellet begins moving down the barrel. This puts a premium on ensuring that recoil motion is absolutely consistent.
Standing I rest the rifle on my open palm just in front of the trigger guard, use a light RH hold, and light cheek and shoulder pressure. I line up on the target, relax, take up the trigger slack and wait for the moment when the rifle is steady, then squeeze the trigger. The key for me is relaxing, and making sure that my trigger finger is the only thing that I move when I take the shot. I have no special "artillery hold", I use the same techniques for rimfire or for the 300S. Finally, I make sure I am wearing my lucky sweatshirt.
Sitting I rest the rifle on my sticks about 3/4" forward of the balance point. The left hand lightly supports the sticks, I use very light cheek and shoulder pressure, and grip lightly with my right hand, placing my thumb on top of the stock to the right of the center line. This thumb position prevents undue pressure from the palm that can cause the rifle to jump left or right under recoil, for me at least. I use the thumb and forefinger trigger squeeze technique once I have relaxed and the sights are on the target.
For shooting off the bench, I just put a Caldwell bag in front of the trigger guard, and may or may not use a rear bag. Everything else is pretty much the same as shooting from sticks.
To finish up, here are today's groups from my TX200HC at 50 yards sitting. I got off to a good start, but kind of lost concentration as I went on. Oh well, maybe next time.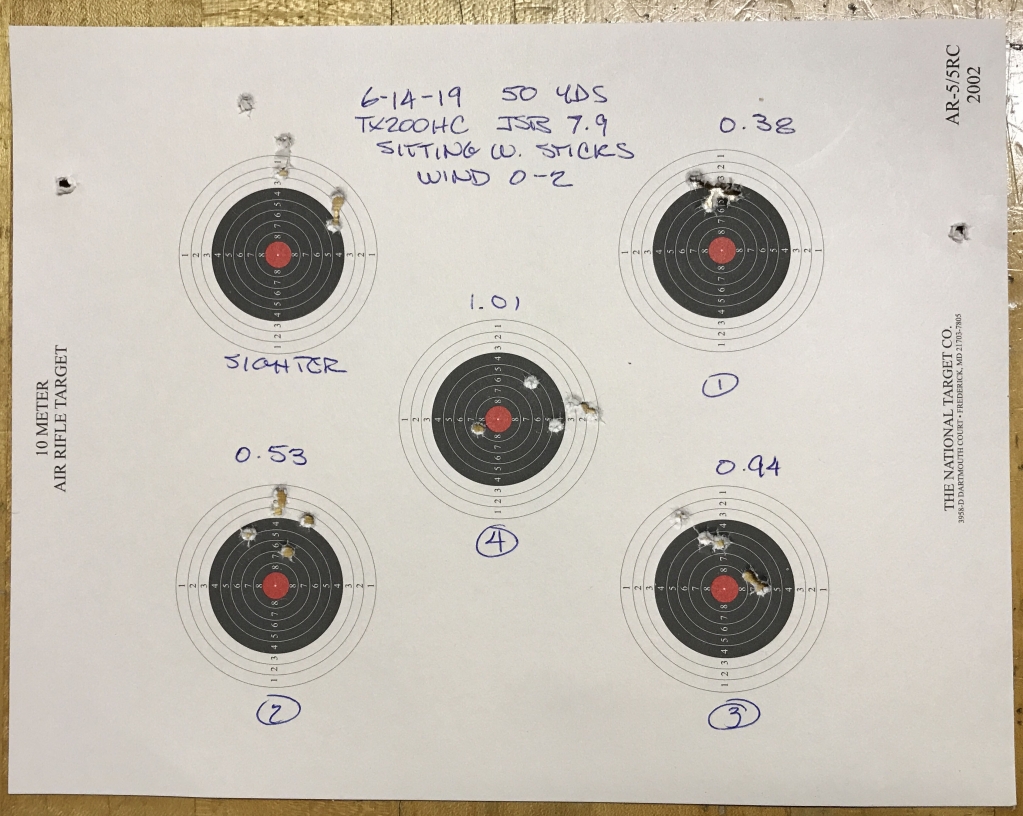 So what are your favorite tips for shooting a springer? Let us know!
Chuck