I got a new custom Cricket Mini in .25 cal tuned to shoot the 33.95 gr MK2's at 910 fps
She was shooting like a top this morning in low to zero wind.
Then later today the wind picked up a little and things went south? Now in it's defense, my back yard is notorious for some crazy stuff when there's the least amount of wind. It's like some crazy vortex back there when the wind comes in?
So , I decided to do six (5 shot) groups at 46 yards since that's where I have my bullet trap set from the back porch. Only averaged 0.70 inches for the six groups with 0.59" being the best and 0.83 being the worst. I was disappointed to say the least?
Then I grabbed my FX500 and gave her a whirl. She fared a little better with a 0.615" group avg for the six groups.
So, I says ok and grabbed the Boss lets see how she handles this. Got a nice 0.375" group avg with the highest group being 0.50 inches and lowest at a stunning 0.22 inches. The two FX's put the Cricket mini in 3rd place???? Holy crap?
I got to thinking and I know my .22 Cricket pup is a shooter, so I grabbed it and went to work. Jeesh, it came in second right behind the Boss with a 0.492 inch avg for five groups. I let it get below the regulated pressure on one group, but even if I counted that group it would be a 0.542 avg.
Then I grabbed my little 28 fpe Vulcan and did the six groups with it as well.
She averaged 0.752 inches for the six groups and came in last place, but I know it's sometimes a little harder for the lower power guns to buck the wind like the higher powered ones.
So, lets recap Winner and 1st place at 46 yards in wind. FX Boss shooting 44.75 gr at 77fpe avg 0.375 inches for six (5 shot) groups.
2nd place .22 cal Cricket pup shooting 18.1 gr at 38 fpe avg 0.492" for 5 groups and 0.542" for six groups if I include the one with low air.
Edited in the Cricket pup power at 38 fpe with the 18 grain. It does shoot the 25 grain at around 865 fps for 42 fpe, but the 18's are flying at 970 fps.
3rd place FX 500 shooting 25.39 gr at 45 fpe avg 0.615 inches for six (5 shot) groups.
4th place Cricket mini shooting 33.95 MK2's at 62 fpe avg 0.703 inches for six (5 shot) groups.
5th place .22 Vulcan shooting 18.1 gr at 28 fpe , avg 0.752 inches for six (5 shot) groups.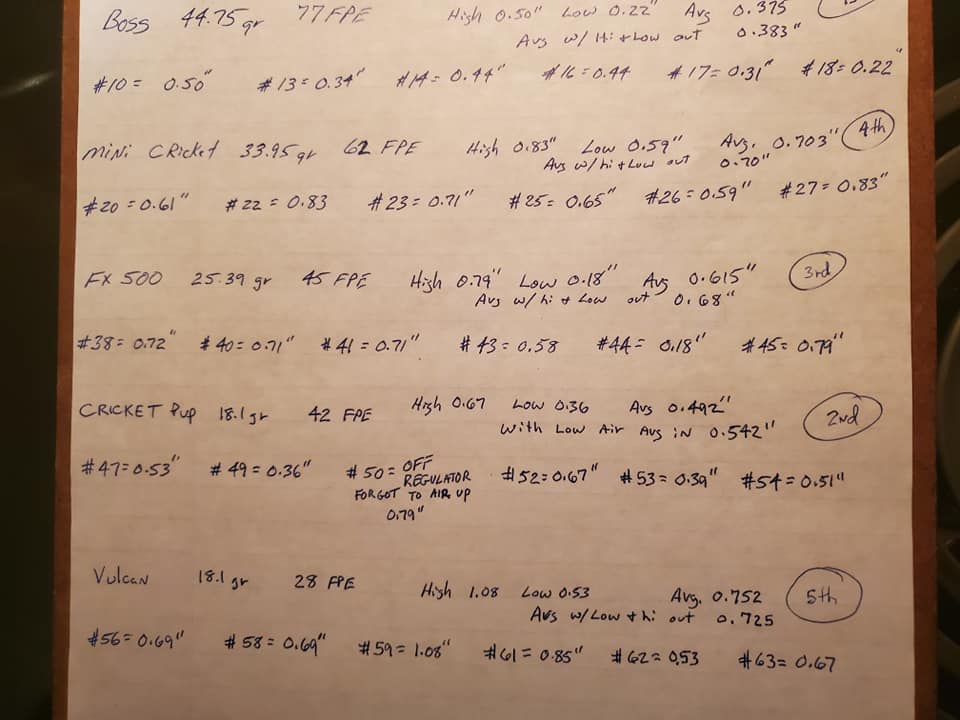 Sighters top left of page. Boss top row, Mini 2nd row, FX500 3rd row, Cricket pup 4th row, Vulcan bottom row
Back to the drawing board or wait for a calmer day? Time like this I wish I had a least a 40 or 50 yd indoor range.
I gotta post the good with the bad!