It started with a dollar store dart gun, went to nerf, currently on my first air rifle I've ever owned! I've read a lot of info about this gun. My first impression, pulling it out of the box was, wow, this is definitely adult in size and weight. Cocking it for the first time, I realized this ain't the pellet gun I played with in the 70's!! (It didn't come with the case, but that was only like $10 or $20)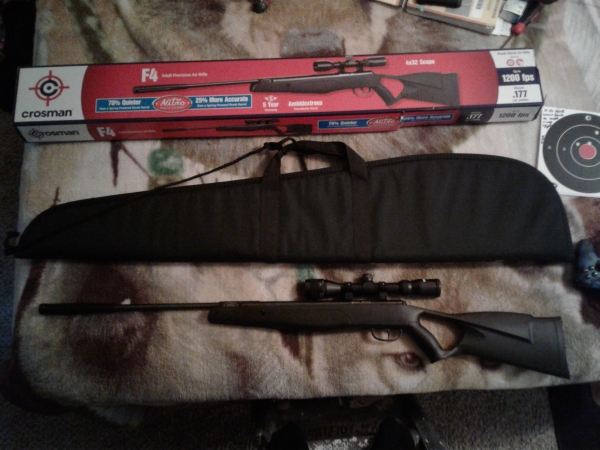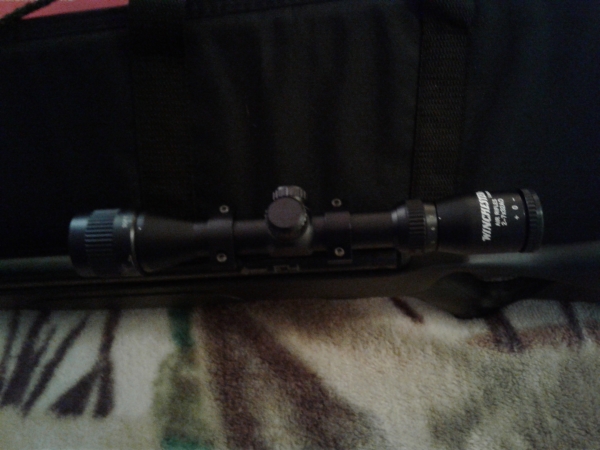 I bought it 10.03.2018 and already have over 500 rounds through it. $79 and it comes with a sweet CenterPoint 4x32 scope??? No complaints at all. I used at least 3 different types of ammo before I understood that different ammo comes out differently. I beat up a lot of targets and didn't write down any data on them. Then I went to the internet and learned a couple things. I decided I wanted a better scope and went with the Winchester 2-7x32 AO. Very nice scope. One problem: the rings that come with it don't have a set screw for the rear ring. I went ahead and used them anyway, bad mistake. The scope kept shifting around and I personally believe that the tape they put inside the rings is part of the problem. After switching to new scope, I could not find zero at all. I was bummed. I learned about the Leapers AccuShot one-piece mount and blue loctite. That gave me an idea. I decided to pull that tape and apply blue loctite to every screw, inside the scope rings where the tape was (not sure if that was a good/bad idea) and on the dovetail where the rings mount, as well as the set screw. I went back to the original rings that came with the CenterPoint scope since those have the set screw. However, they are lower in height compared to the rings that came with the Winchester scope, so I can see the top of the flared barrel at the bottom of the scope. Bit of a bummer.
After loctiting the crap out of my scope and letting it set up for ~24 hours, I started shooting strictly .177 Crosman Premier Pointed 7.4 gr.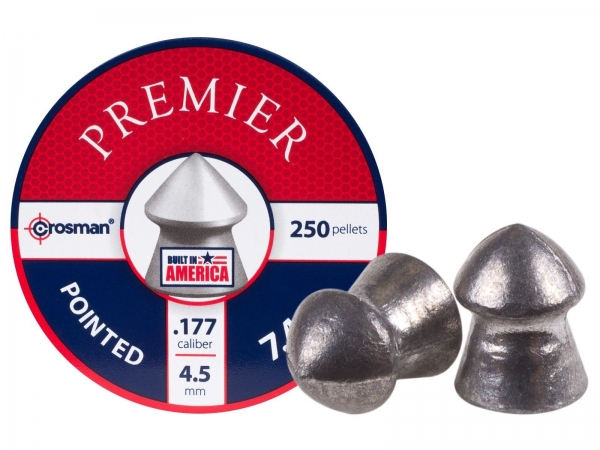 Now, I'm shooting 30 feet, indoors, and at least 1, usually 2 or 3 out of a 5-shot group were flyers. Even in that picture you can see the seem and imperfections. This ammo should be pulled from the shelves.
Next, I shot the .177 Crosman Copper Magnum 10.6gr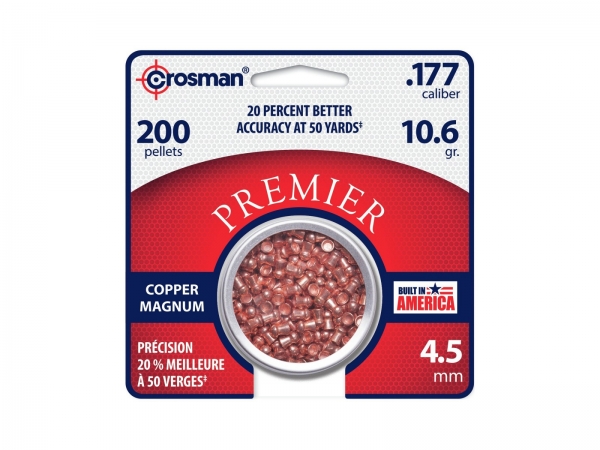 I will let the results speak for themselves: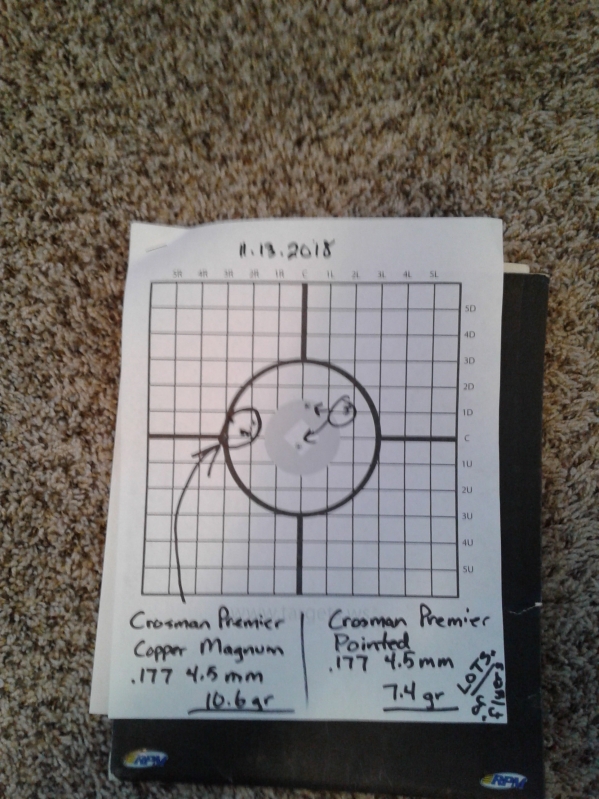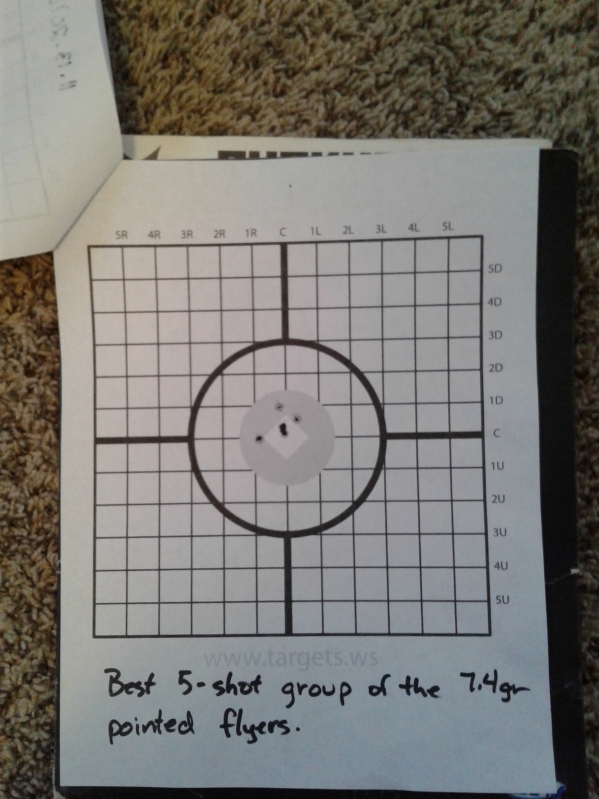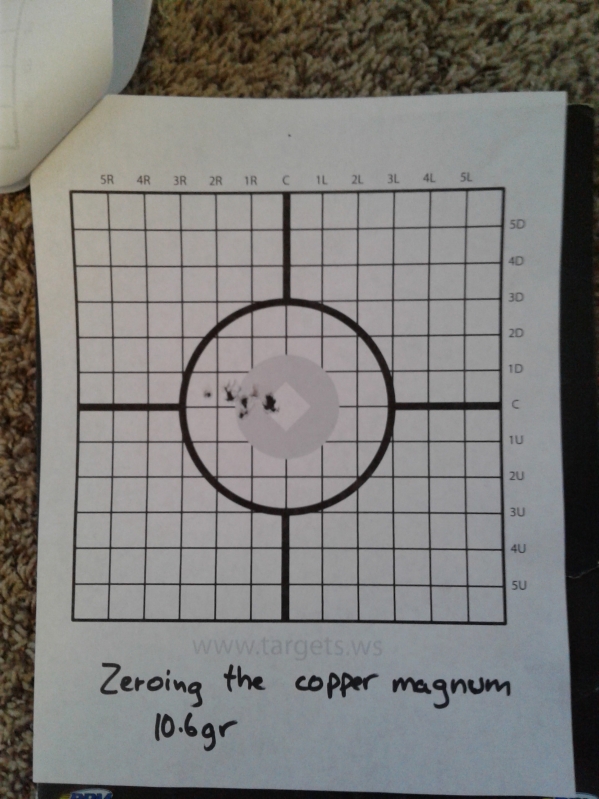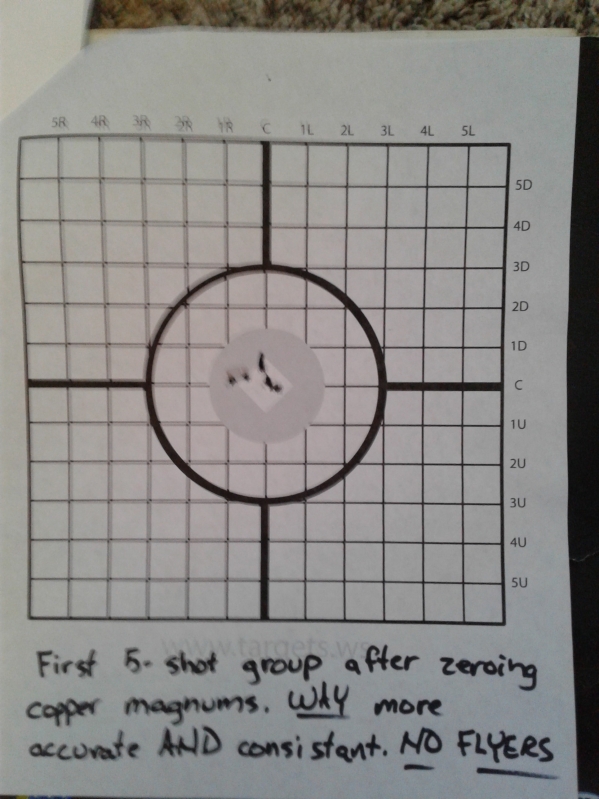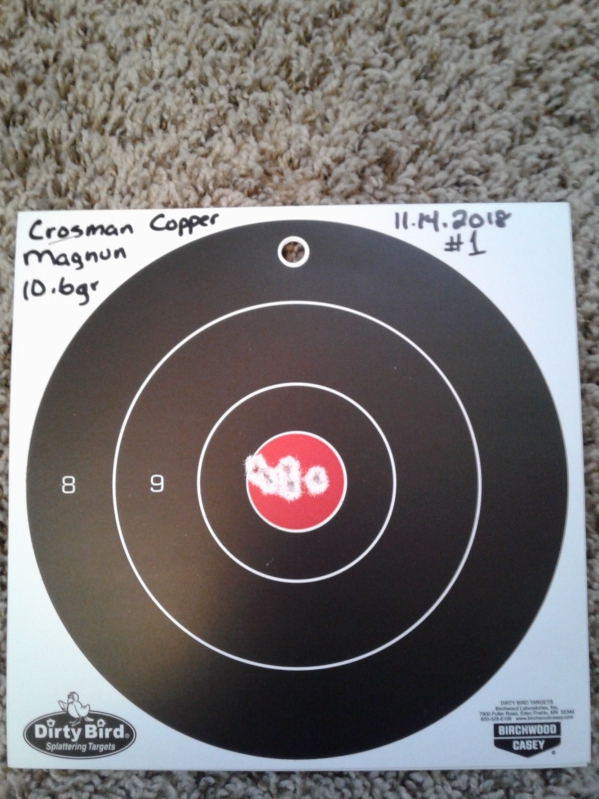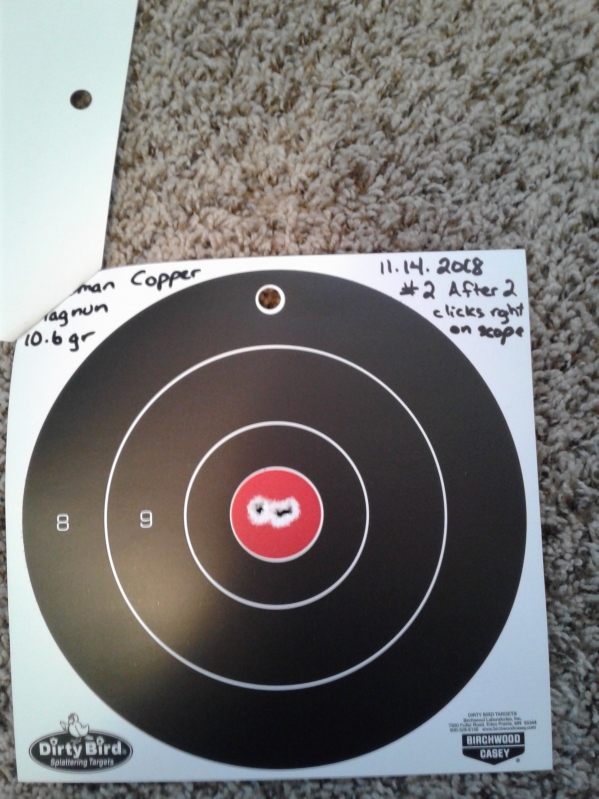 I have found my ammo and I am sticking with it. It's lead free and the quality of each pellet is top notch. I love what Crosman says about them: "improved rifling engagement". They definitely fit tighter than those cheap pointers. I'm willing to bet this ammo works good in all these rifles because it comes from the same manufacturer. 
Additionally, I've read a lot of "fixes" for the trigger. Personally, I don't like the idea of pulling apart a brand new rifle and modding it before I even get to know it. I found this ADJUSTMENT video and tried it. 
https://www.youtube.com/watch?v=OauTYJzevms
WOW. Bumping up against that back wall (second stage) is NICE, then holding it there until you're ready to fire made me way more accurate. Don't forget the artillery grip!
Final Thoughts: This is an amazing rifle for the price. Powerful at ~1200 fps, accurate once you figure some things out and just fun to shoot. Get ready for a workout!!
I absolutely can not wait to take this thing varmint hunting!!