A TALE OF TWO RAWs HM1000X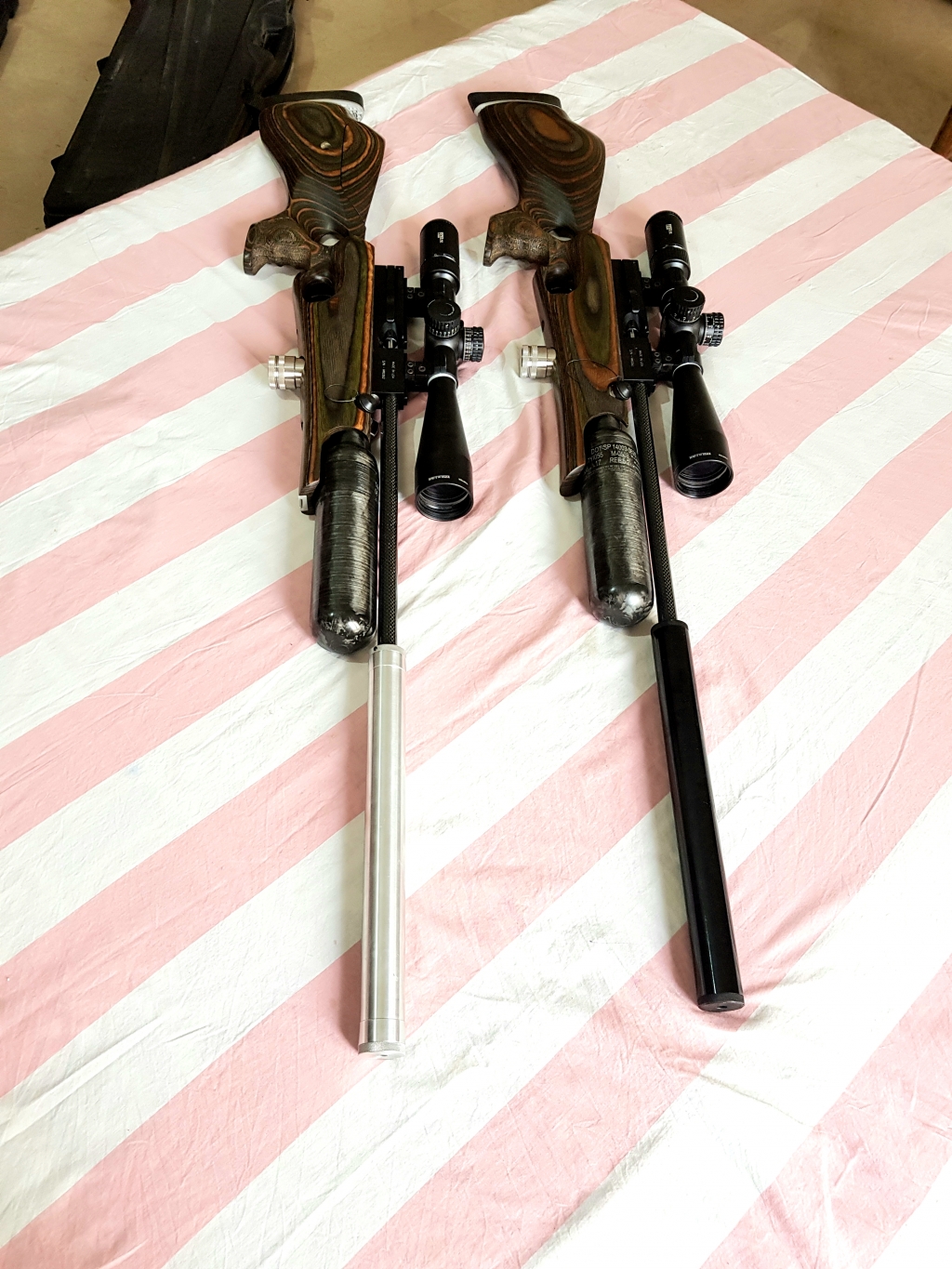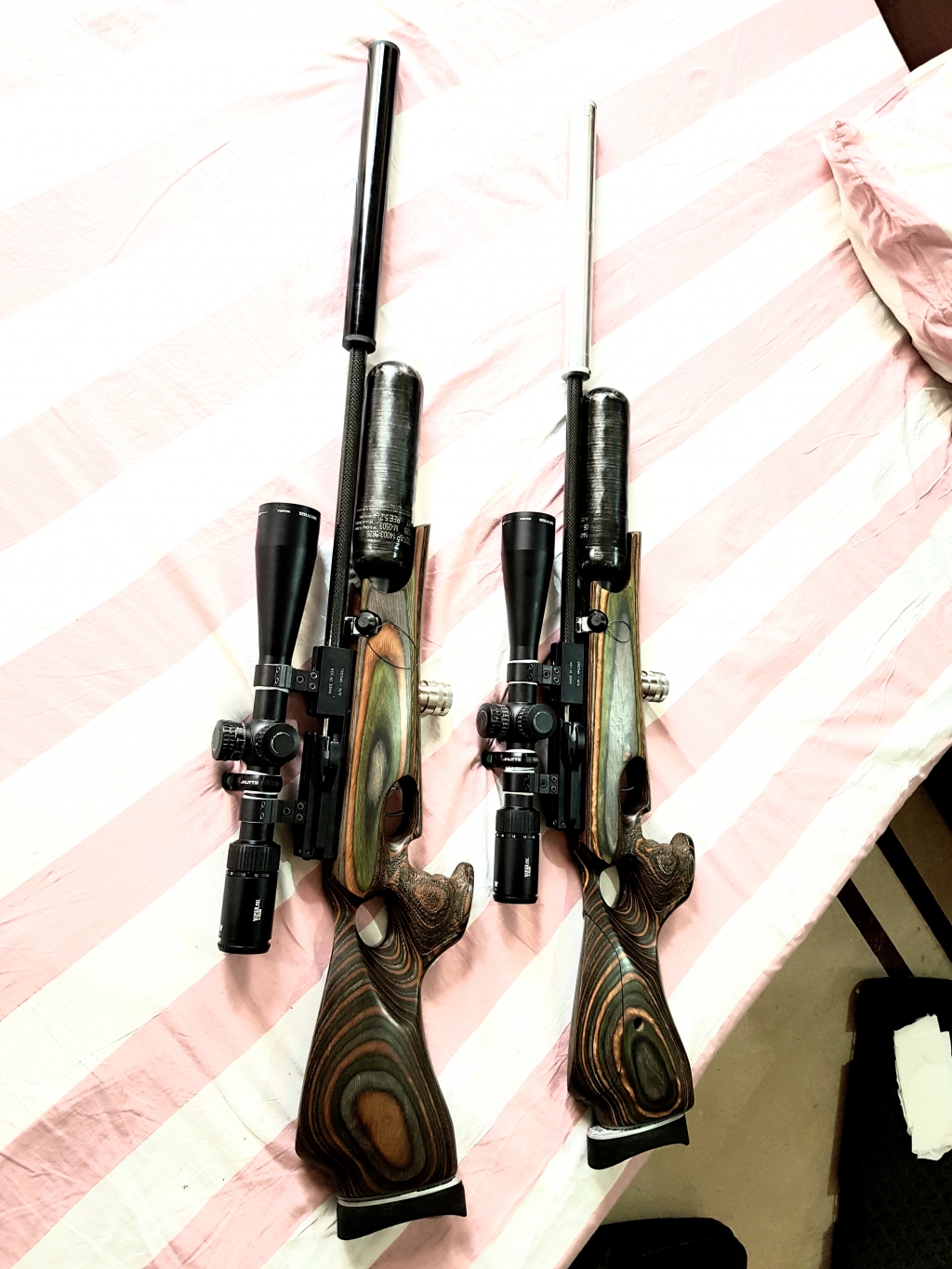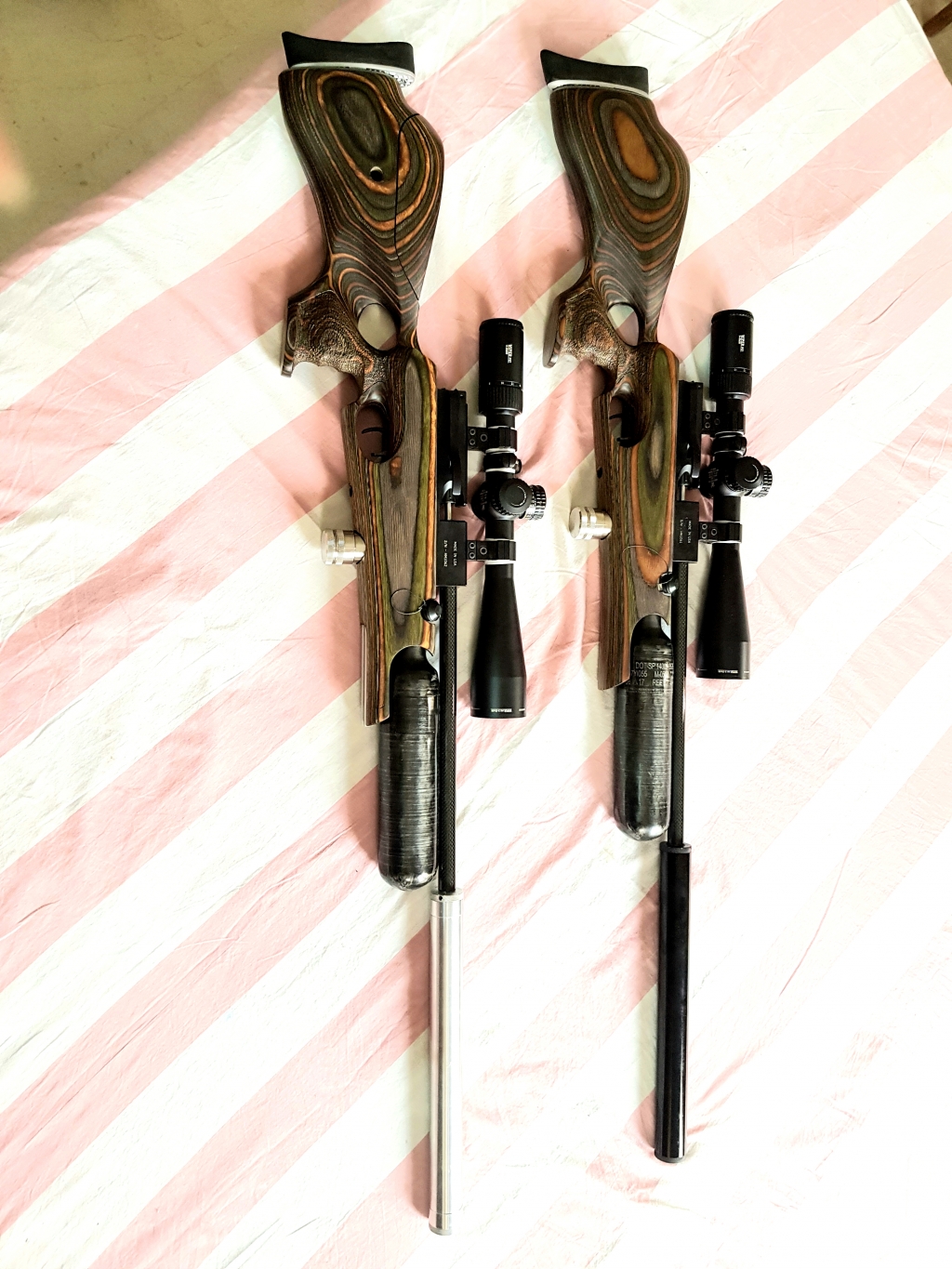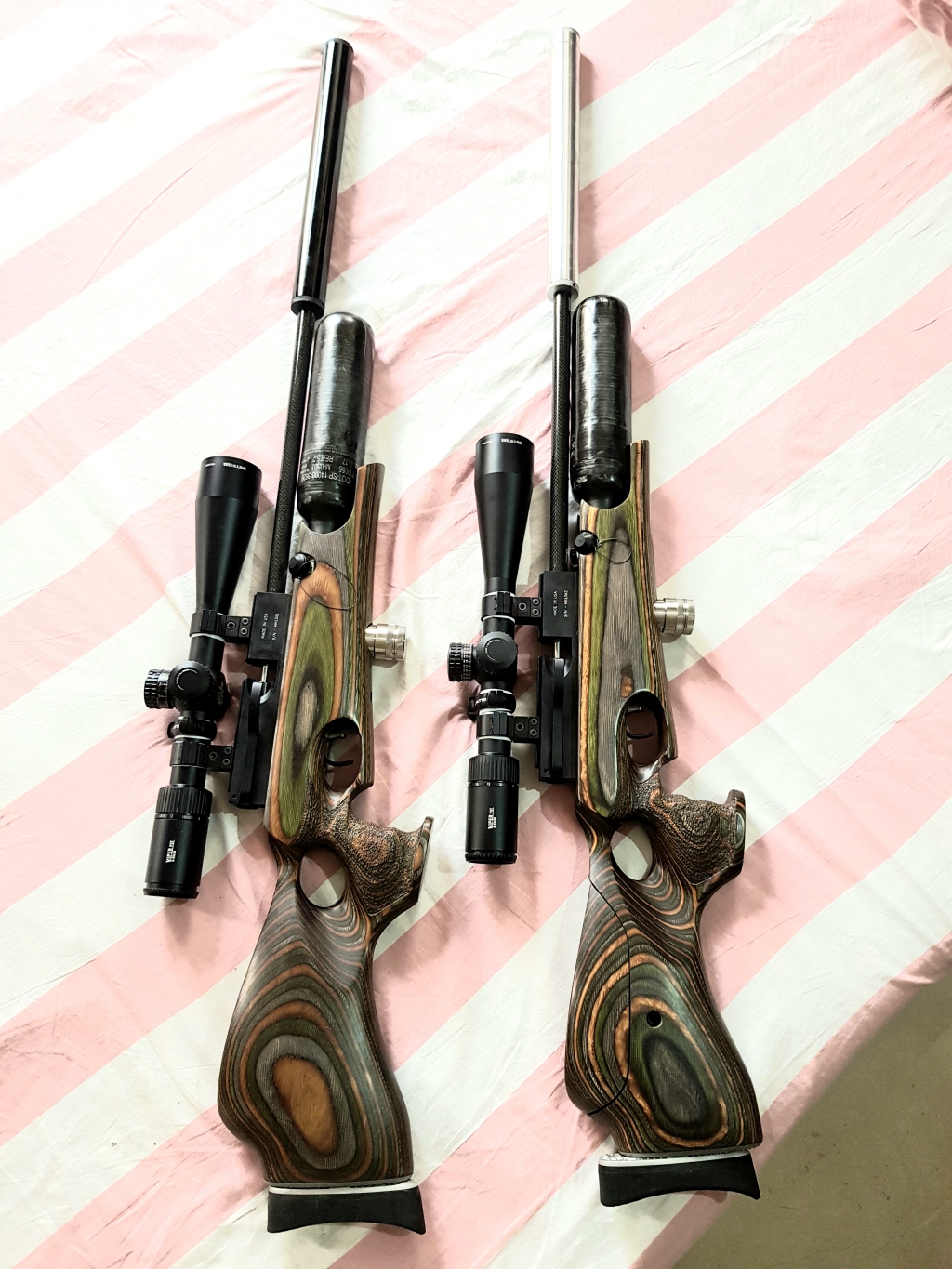 I and my friend Wajih had always admired Theoben Rapid PCPs and their new US based version Rapid Air Weapons (RAW) that was being made by Martin and he was running the RAW Company at that time.
PLACING ORDER
We placed the order for two RAW HM1000X .25 at 60 fpe power level and both with LW polygonal barrels. The order was placed on 05 July 2017. We hardly arranged the funds as it was costing around US$2100 per gun. The exchange rate of my country's currency with US$ is very much unfavourable for us but as Wajih had plan to visit US after about six months of placing the order, we thought that he can bring both the guns in luggage and we can save funds that otherwise had to be paid to some local dealer for import etc.
MY FRIEND IN NEW YORK
Wajih reached New York in November 2017. There he knew that in NY, airguns are considered to be firearms and for that purpose he had to have a valid fire arms license otherwise serious issues could be faced. Both our guns were custom made as per our requirements and by that time Martin had informed us that he had completed both the guns to our specs and we could make the payment and take delivery.
But now law was prohibiting Wajih to bring the guns in luggage so he finally left the idea of bringing the guns along with him.
IMPORT OF GUNS
We had decided that we will import both guns through some gun dealer. Through the dealer we had to pay around double of the US price due to duties, taxes and the dealer's margin. But since we had to honour our deal with Martin as these were custom build guns, we paid the bill and took delivery in my country.
MARTIN SHAKES HAND WITH AIRFORCE AIRGUNS
Meanwhile we knew that these are two of the last few RAW guns that Martin made before joining hands with Airforce Airguns.
I assume that joining hands with Airforce Airguns will allow for larger number of production units in lesser time but I also am concerned about the quality control under the new set up.
Being a professional accountant I understand that it becomes very difficult to maintain highest level of QC when anything is produced in large quantities. For our two guns, Martin had assured that he will himself test fire both the guns at 100 yards and he will make sure that both guns shoots under 1 inch in good conditions. Later he confirmed this test.
RECEIVED GUNS FROM THE DEALER
Through the gun importer we received both the guns in our country in May 2018. Both the guns looked gorgeous. At least I had never seen that quality of fine laminate furniture on any other gun in my 46 years life. The overall built quality of the guns was amazingly extra ordinary.
MY BACKGROUND
Here I tell you that I have been in the hobby of air gunning since my childhood and I also tune guns. I have already worked on, German, British, Swedish and Chinese made PCPs but these RAWs were something like Rolls Royce as compared to Toyota.
The looks, the feel, the cocking, the trigger, the power and accuracy, everything was of the highest quality I had ever experienced. To me the only other guns that come close in terms of some of traits of RAW are HW100 and Theoben Rapid.
TESTING THE RAWs
Since we were long hungry to test the guns, we put decent scopes on both and after sighting in we waited for a calm day and found that accuracy was under 1 inch at 100 yards with both 25 grain jsb and 34 grain jsb. While 25 grain was going a bit hotter than at 1000 fps and 34 grain jsb was leaving the muzzle at a bit more than 900 fps.
MODIFICATIONS
Since I am a tinkerer and having the hobby of tuning PCP guns, I have some links with some of the top US based and UK based tuners. I discussed with them that how the excellent RAW guns may be taken to a new higher level.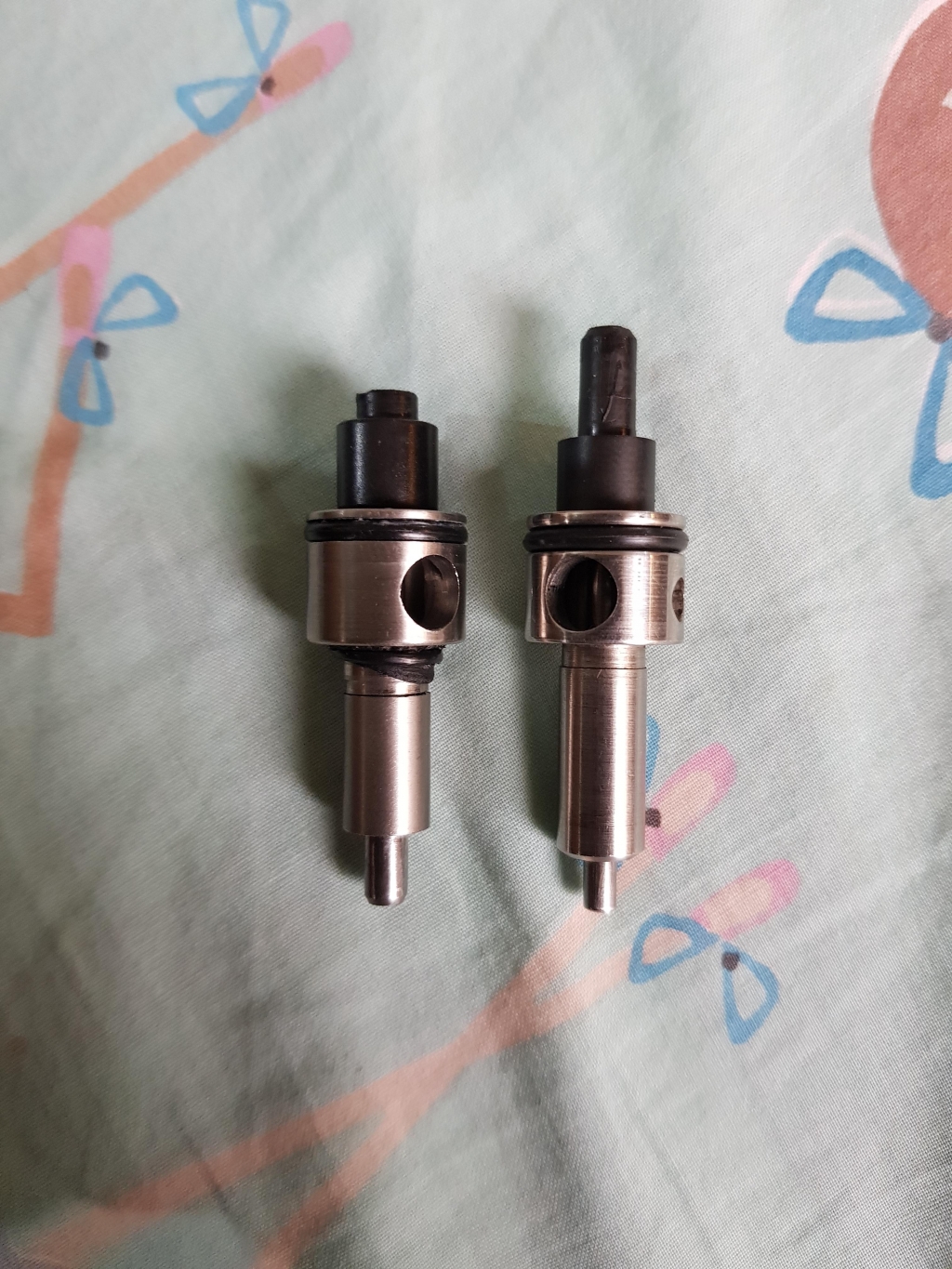 I also floated some ideas myself. Bucketboy a tuner of UK offered me his developed high efficiency and high power valve. When I received the valve, I could clearly see the advantage of the design of the new aftermarket valve. It did give me efficiency and power gain. Further the consistency also improved.
[/LIST=1]



[url="View attachment MTU5NDU1NTI4Ml8xNzU2MDE5ODg3NWYwYWZiOTJmMTQ2ZjYuNjE2NjM3NTEuanBnIl1EW0FUVEFDSD1mdWxsXU1UVTVORFUxTlRNNE5sOHhNemswTWpJd056WTNOV1l3WVdaaVptRmxZV00zWWpVdU5ESXhOemsxT0RBdWFuQm5bL0FUVEFDSF0=



2. Then Bucketboy showed me the design of his "Hammer De-bounce Device" (HDD). He uses these products in UK for Rapid and RAW guns.

With his help I locally developed the copy of his designed HDD (with his permission). This device helped in further consistency and the span of adjustable velocity increased much more for tuning, than ever before, however it increased the coking effort a bit but not too much.








Now the RAWs had reached to a new level. I am a hardcore lover of BSA cold hammer forged barrels, especially of those which were made before takeover of BSA by Gamo. I knew that John Bowkett in UK had some pre take over blanks of BSA barrels in .22 and .25. I managed to arrange one blank in each caliber.
[/LIST=1]



















4. One thing that Martin had refused when I had placed the order was index-able transfer port. At the time of machining the BSA blanks, I managed to develop a system that allowed me to index the barrel as in my system the transfer port was rotatable.

This helped me a lot in getting perfect indexing of both barrels. Both barrels proved to be one MOA at 100 yards.








Now since we all know that another PCP is very much in focus these days and that is FX Impact. I had developed external power plenums for Impacts in the past. I thought that a power plenum may boast the capabilities of both the RAWs.
[/LIST=1]

I develop a 25cc power plenum that protruded from the stock and was connected where the blanking screw is placed at the bottom of the action.







This power plenum alone gave me additional 50 fps with 34 grain .25 pellets at same regulator pressure and hammer spring settings. So the .25 RAW that was shooting 34 grain JSB at 905 fps started shooting the same pellets at 955 fps.

The gain in .22 RAW was even more amazing. The RAW on whom I had installed .22 BSA barrel was previously giving me 945 fps with .22 JSB 25 grain redesigned monster pellets. This one jumped to 1000 fps by gaining 65 fps keeping the rest of the setting same.

Then I tested the minimum and maximum fps with power plenum.

.25 34 grain JSB

Maximum 985 fps

Minimum 875 fps

.22 25 grain redesign JSB

Maximum 1010 fps

Minimum 890 fps










One more thing that I had to improve was pellet probe and barrel to probe sealing system. In RAW HM1000X, just like Rapid there is no O ring for sealing the breach rather metal to metal contact seals that requires more force than needed in O ring systems.
[/LIST=1]

So I made a groove in the transfer port edge and put an O ring there also redesigned the pellet probe to match this system.








Even after this upgrade, I found that a little bit of air escapes from between the pellet probe and the pin inside the probe. In order to improve it, I developed new pin and probe. I made little groove on the pin and put tiny O rings on those grooves. Now when I inserted the pin in the probe, it sealed the high air pressure perfectly. Further by modification and using the O ring system in the transfer port, the lever closing became butter smooth and it does not need any noticeable force to close.
[/LIST=1]





8. Further the OEM LDC / moderators were not up to the mark for silencing the guns. To handle it I removed the original RAW LDCs and installed my own developed ones with baffles and felt. My developed LDCs are much for effective.

RESULTS

Following are 18.13 grain jsb .22 pellets result at 950 fps at 116 yards. Group of 5 to 8 shots is under 3/4".





1 = POA

2= POI

Following is today's results in windy conditions. 

Today we tested both the guns in 26 km / h to 33 km/h wind gusts at 100 yards.

In so much wind when I tuned the guns to counter the wind effects, the best I could get is as follows;

.25 34 grain JSB MK1 at 955 fps group size 1.6 inch

.22 25 grain JSB redesigned monsters at 1000 fps group size 1.5 inch





This is the story of taking two RAWs to new levels.



Umair Bhaur

12 JULY 2020