Getting tired of shooting groups? Try this game out. You shoot all 24 bulls once at 30 yards. Next, eliminate your two lowest pairs. Then, add up your score, with a Max of 200. My best target using my Vet Long is below, as is the target I used. It would be a really great shooter who could get a 200. The 10 ring is 3.28mm in diameter, about the size of a small fly. Post up your best score and what gun you used!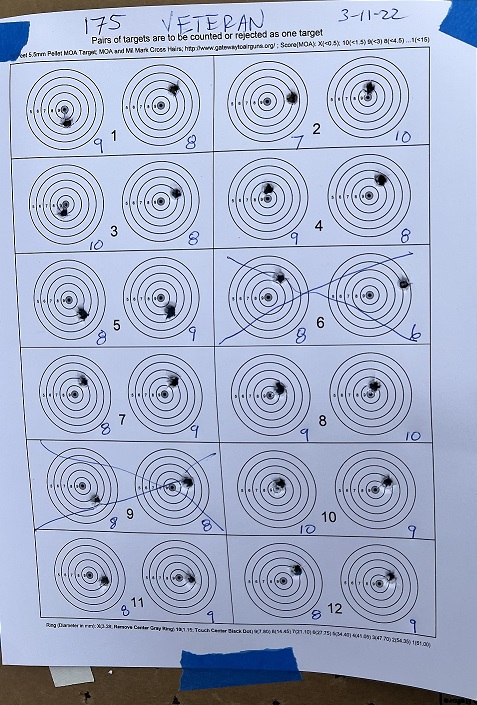 Here are the scoring rules:
If the hole touches the next higher ring, score to the higher ring. Use a pellet, skirt down, if the hole is ragged.
To score an X, you just need to touch the black dot in the center
. (This is different than the instructions on the bottom of the target, due to us shooting at 30-yards)
To score a 10, you just need to touch the gray ring surrounding the black dot
.
Once you shoot all 24 bulls, you get to eliminate your lowest two
sets
(mulligans) see the target above how I slashed out my two lowest pairs.
Score the remaining 20 targets for a Max score of 200. Also add your X's if you have any.
So a perfect score would be 200 20X. Please post up your scores and what rifle you are shooting. Have fun!!
View attachment 30-Yard Challenge Target.1654254248.pdf