I posted a question about .25 caliber pellets a week ago and didn't get much info in response. I went ahead and ordered the 3 that Pyramid offers:
Skenco Black Max Lead-Free Pellets, .25 Cal, 32.40 Grains, Domed 50ct
H&N Baracuda Green .25 Cal, 19.91 Grains, Domed, Lead-Free, 150ct
Received them on Monday. Shot them at 30 yards in my back yard on Tuesday and shot The H&N and the Predator GTO's at 50 yards today. The airguns I have testing them on are a Wildcat, Vulcan Tactic, and an Impact. The Wildcat and the Vulcan are very accurate with the JSB;s with the Vulcan having a slight edge. The Impact is my newest rifle and is accurate too but I haven't used it as much and haven't done any tuning. It is running just as received from the factory.
Here are my obervation: Picture below shows the size of the different pellets as well as the JSB 25.39. The Skenko Black Max are useless for me. They don't fit in any of the magazines, I hand loaded 2 into my Impact with effort and they didn't even hit a 12"x15" target at 30 yards. The Impact is zero'd at 50 yards. 
The Predator GTO are the shortest so they do fit in all the magazines and shot the best in the Wildcat. Ok at 30 yards but scattered at 50. one right on, next high, next low, etc. No picture of the 50 yard targetOne of the interesting things was pellet speed. Let me say it was 95 degrees on Tuesday. The last time I chrono'd my Wildcat it was 70 degrees and with the JSB's the speed was 889. Tuesday the speed was 915. The GTO's were traveling at 1021 FPS - pretty hot.
H&N Barracuda Green - too long for either the Wildcat Mag or the Impact mag but they fit easily into the Vulcan mag. For the std. Jsb 25.39 pellet FPS had increased from 883 in April to 905 on Tuesday. The H&N's shot at 955 avg. FPS. in my Vulcan.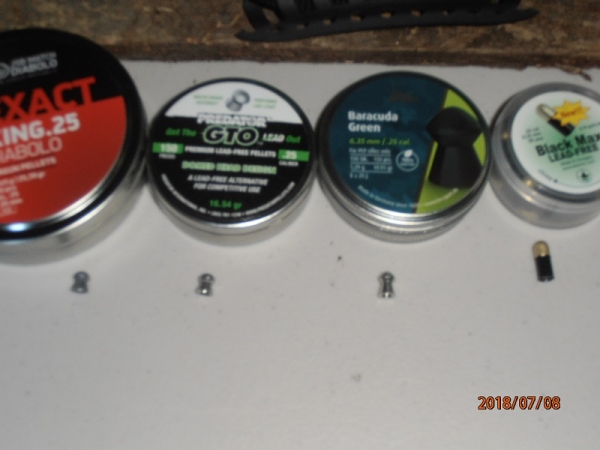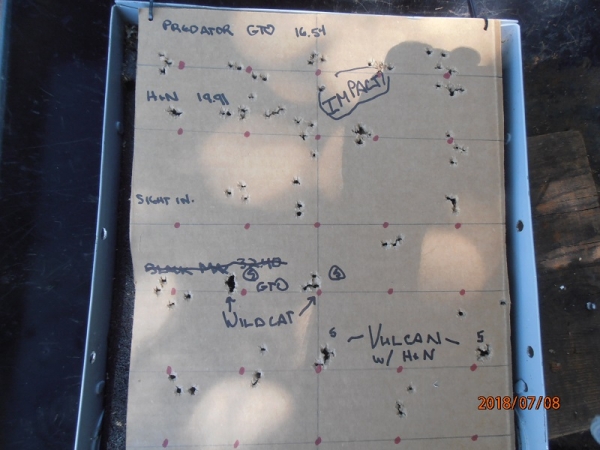 ABOVE: This was at 30 yards in my back yard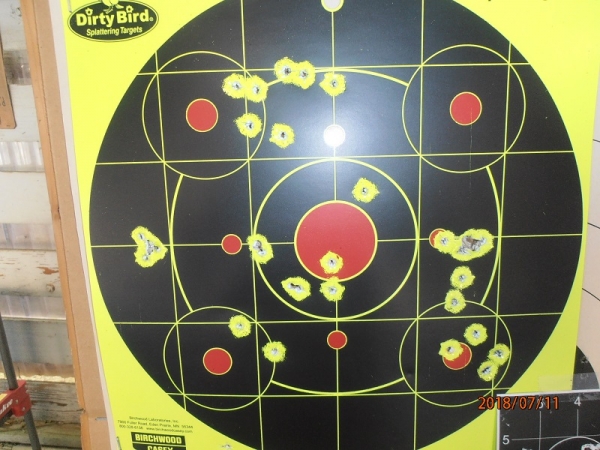 H&N - Center line smal bullseye to the left of the big center bullseye: far left - I think it was 6 shots. Right of the small bullseye - 3 shots with the H&N - 
I had other spinner targets set at 60 , 72, 90 yards and hit all of them. So I'm going to give these a try next time I go for ground squirrels. The owner of the property inquired about lead free and I told her I'd see if they were a possibility.