Reply To: Tuning the Benjamin Marauder
July 25, 2015 at 7:45 pm
Link
BareBones
Participant
Member
First rifle did shoot noticeably better then this one right out of the box.  Wasted a lot of pellets on the first rifle with the JSBs shooting best out of the previous rifle, the JSB's did not shoot as well out of the new rifle. 
I haven't cleaned the barrel, I wanted to start bone stock right of of the box just like I did I with the first rifle. I eventually did clean the barrel on the first rifle, but all things being equal right out of the box this one is shooting even worse then the first one I had. 
I am posting via an iPad and don't have any way to do a shot string spread sheet, but my first shot was 833.0 fps, shot 50 was 830.3 fps, high was 875.0, low 828.1 which oddly was shot 3. 
JSB 18.1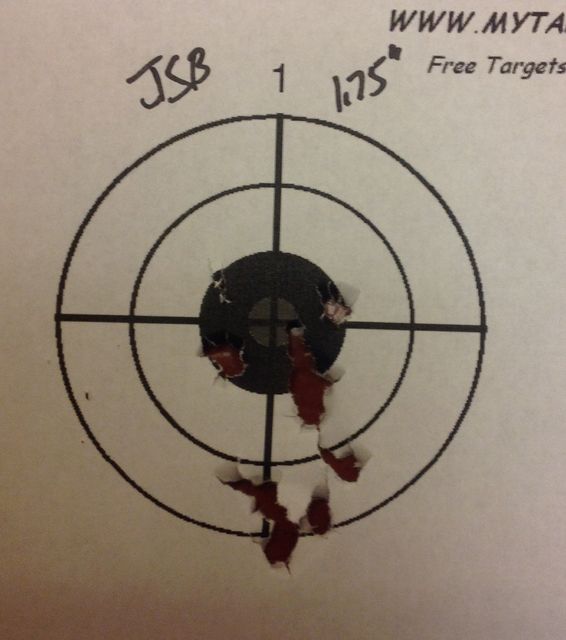 First rifle did shoot noticeably better then this one right out of the box.  Wasted a lot of pellets on the first rifle with the JSBs shooting best out of the previous rifle, the JSB's did not shoot as well out of the new rifle.  I haven't cleaned the barrel, I wanted to start bone stock right of of the box just like I did I with the first rifle. I eventually did clean the barrel on the first rifle, but all things being equal right out of the box this one is shooting even worse then the first one I had.  I am posting via an iPad and don't have any way to do a shot string spread sheet, but my first shot was 833.0 fps, shot 50 was 830.3 fps, high was 875.0, low 828.1 which oddly was shot 3.  JSB 18.1